It's Cold Outside
Desktop Theme and Screen Saver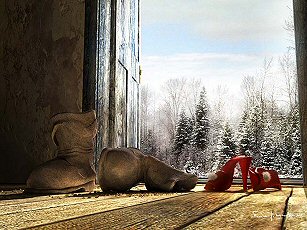 About This Theme
Get that coat, those gloves (or mittens), and those boots on because it's cold outside! This theme was inspired by the song and by the changing of the seasons, especially the winter holiday season. I wish you all the best and hope you enjoy the theme.
Credits
Wallpaper Artist: Ferenc J. Haraszati
Icons, cursors, and all other theme parts are original creations by Patina's Treasures. The sound files for this theme were cut and edited from the following music track.
Song Title: Baby, It's Cold Outside
Song Artist: Vanessa Williams

Download Self-installing Theme
It's Cold Outside
(5,021k)
Zip contents:


Desktop Architect Installer


Readme Text File
Notes: A Desktop Architect Installer is for those that want a theme without the trouble of manual installation. This self-installer also comes with the screen saver included in the setup.

Optional Downloads
N/A