Oasis
Desktop Theme and Screen Saver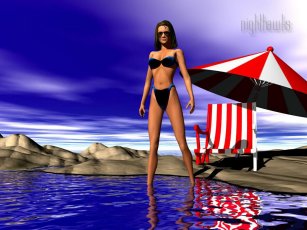 About This Theme
Are you still looking for that Oasis? Well, hopefully this theme will give you a taste of freedom from those times when you need a break from hectic daily life. Just think about getting away and kicking back in an Oasis.
Credits
Wallpaper Artist: David Runyon
Theme Authors: Patina' Treasures and Ingalill Desktop Creations

Song Title: Oasis
Album: Incognito
Artist: Spyro Gyra

Download Theme Files for Manual Installation
Oasis
(1,808k)
Zip contents:


Theme Directory


Two Theme Files
Notes: A Manual Installation is for those that know how to install themes without an installer. Also note that the screen is available as an optional download.

Download Self-installing Theme
Oasis
(4,420k)
Zip contents:


Desktop Architect Installer


Two Font Installers


Readme Text File
Notes: A Desktop Architect Installer is for those that want a theme without the trouble of manual installation. This self-installer also comes with screen saver included in setup.

Optional Downloads
Oasis Screen Saver


(2,530k)