Penguin Halloween
Desktop Theme and Screen Saver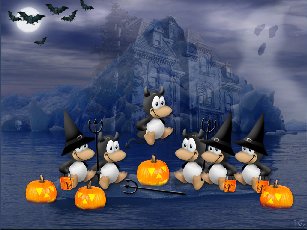 About This Theme
Answering many requests for the Penguins to keep up their travels, we again bring you one of their adventures. Hope that you have as much fun on Halloween as they do.
Credits
Cursors, Icons, Wallpaper, Web Views, and Logos Artist: Ingalill's Themes
Sounds: Patina's Treasures
Album Title: The Violin Player
Song Title: Toccata and Fugue in D Minor
Song Artist: Vanessa Mae

Download Theme Files for Manual Installation
Penguin Halloween
(2,275k)
Zip contents:


Theme Directory


Two Theme Files
Notes: A Manual Installation is for those that know how to install themes without an installer. Also note that the screen is available as an optional download.

Download Self-installing Theme
Penguin Halloween
(4,215k)
Zip contents:


Desktop Architect Installer


Two Font Installers


Readme Text File
Notes: A Desktop Architect Installer is for those that want a theme without the trouble of manual installation. This self-installer also comes with screen saver included in setup.

Optional Downloads
Penguin Halloween Screen Saver


(2,872k)