Penguin Christmas
Desktop Theme and Screen Saver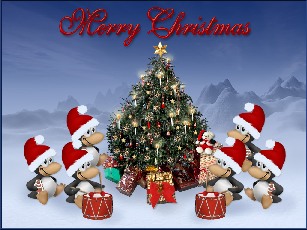 About This Theme
The Penguins are at it again, bringing you a taste of Merry Christmas cheer in a frosty cool way. Here's wishing everyone has a happy, joyful, fun filled holiday season. - Merry Christmas!
Credits
Cursors, Icons, Wallpaper, Web Views, and Logos Artist: Ingalill's Themes
Sounds: Patina's Treasures
Song Title: The Little Saint Nick
Song Artist: The Beach Boys

Download Self-installing Theme
Penguin Christmas
(3,447k)
Zip contents:


Desktop Architect Installer


Font Installer


Readme Text File
Notes: A Desktop Architect Installer is for those that want a theme without the trouble of manual installation. This self-installer also comes with screen saver included in setup.

Optional Downloads
None